Double Take - 2000 - Word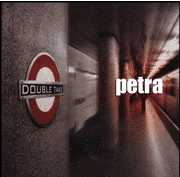 Petra comes out with their 19th studio album. They decided to take some of their old classics and transform them into what is popular today: upbeat acoustic rock like Jars of Clay and Stephen Curtis Chapman. This album didn't go over well with fans of Petra's more harder edged rock; this album is in NO WAY like On Fire. There are a few songs that have some electric guitar, but it is mostly acoustic guitar, the orchestra, harmonicas, and stuff like that. But a sold out Petra fan may give this album a try. There are a few good songs on here, plus two new songs "Breathe In" and "The Longing" which are actually not bad. Pete Orta actually sings on Breathe In (he wrote it, too). But at their tours, expect some awesome rock music as well as some of these songs in a more upbeat version. Basically, this album could be better, but by no means is it terrible.
RATING:




SONG LIST:
[1] Judas' Kiss
[2] The Coloring Song
[3] Dance
[4] Beyond Belief
[5] The Longing
[6] He Came, He Saw, He Conquered
[7] Beat The System
[8] This Means War
[9] Breathe In (sung by Pete Orta, John Schlitt backing vocals)
[10] Creed
[11] Praying Man
[12] Just Reach Out

PETRA WAS:
John Schlitt: Lead Vocals
Petra Orta: Lead Guitars, Lead Vocals on "Breathe In"
Trent Thomason: Keyboards
Bryce: Keyboards
Lonnie Chapin: Bass
Louie Weaver: Drums
(Terry McMillan: Harmonicas)
(Strings: Russell Mauldin)