Jekyll and Hyde - 2003 - Inpop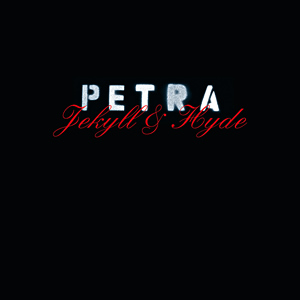 The full blown review:
Yes folks, this is the rocker you have been waiting for since 1999. Well, to everyone who thought Petra was too old to rock, get out of YOUR graves, put on some earplugs on, and go get PETRA'S new album and be amazed. From the beginning to end of this disc, amazing guitar riffs flood the airwaves.

The first song, first hit single, and CD title, "Jekyll and Hyde" is the by far the heaviest song. The first riff is probably the most amazing thing I've heard by Bob Hartman in a long time. It's slow and heavy and it gives ya goose bumps all over. And not only that, John Schlitt's vocals are as piercing as ever, especially after he sings "Jekyll and Hyde" right before the bridge. Not only that, it's very easy to relate to the lyrics of "Jekyll and Hyde" because it talks about what we all have to deal with: the battle of the flesh and spirit. I think his voice nearly matches the power that it had back in "This Means War!".

The next song is: "It's All About Who Who Know". This song isn't as heavy as JAH, but the classic rock riffs are there, and it definitely reminds me of some of Bob Hartman's awesome guitar riffs from the early years, but even heavier and with better production. "Stand" is probably the second best rock song on the album. The lyrics are right in your face, nose-to-nose. "We're all Conqueror's in Jesus' name!" I love it. "Stand up tall, stand or fall, stand your ground, don't stand down, stand connected, stand corrected, stand in faith, stand elected." Can't beat that. Besides the ending of the song rocks with Bob doing some random solo stuff. The coolest part is the background vocals. Nice added effect. Sadly, this is the only solo on the entire album.

I like Woulda Coulda Shoulda a lot, except the bridge seems kinda murky, but that aside, it's classic hard rockin' Petra with a fun, almost-Newsboys kinda sound (Peter Furler influence?) with thought-provoking lyrics. It has a sweet intro riff. Even though there are some parts that seem to make the song funny, letting these songs wear on you has a great lasting effect, and songs like "Stand" grew on me after a bit.

Perfect World is probably the best song on the album overall. The Chorus is the best part, but the lyrics are somewhat different for a Petra song, but it's original and that's why I like it. The pre-chorus has a killer metal-ish sounding riff. Very fun too sing as well.

Test of Time is not bad, but seemed kind of simple overall. But it certainly had a borderline metal edge! This is like On Fire! but with a sound that's 15 years later. It's one of the only songs (other than JAH or the slower songs) that doesn't seem to make some strange musical twist in it that some people say some of the songs do. This song just MUST be cranked up. The lyrics are very up front and personal.

Now we have "I Will Seek You", a really spiced up worship song, that does really well considering Petra is known for doing some great rockin' worship songs on Petra Praise 1, 2 and Revival. At first, I thought the verse was good, but the chorus was strange. Probably my least favorite of all the songs, but not a dud by any means.

Now we have "Life as We Know It". Wow. Starts off slow with John singing to this clean guitar sound, then as soon as the distorted guitar kicks in, it sounds superb. The lyrics are awesome in the chorus. AND RIGHT AFTER THE CHORUS is this awesome AC/DC'ish kinda riff, that seems out of place, but it awesome none-the-less. The chorus is definitely the best of the song. "This is life as we know it, forgiven and free, life as we know it, More Abundantly, born of the Son, we can finally see, this is life as we know it, undeniably." Rock!

Till Everything I Do is probably the best AC song Petra has done since No Doubt, I believe. It's just awesome, sets a high standard for us, but with Jesus it's possible. The lyrics are unbelievable, you gotta hear them in the song and see what I mean, it's incredible stuff.

Sacred Trust is not killer, but a decent ending song. It's got a nice mid-tempo sounds, and the lyrics are also as great as anything to say the least. The only issue I have with this song is it kicks on some metal guitar during the bridge that seems to make the song not flow 100%. But, that aside, it's alright.

Overall, I rate this album a 7. It could be an 8 if it was longer, and 9 if there was guitar solos, and even 10 if it seemed to have more of a flowing aspect to it. But in NO WAY am I saying this album shouldn't be bought by long time Petra fans, baby Petra fans, or someone who has never even heard it before. There is something here for everyone, and I guarantee you'll appreciate knowing that the oldest Christian rock band still recording and touring (31 years now) can rock harder than The Rolling Stones or Aerosmith.
SONG LIST:
1. Jekyll And Hyde - download the full song
2. It's All About Who You Know
3. Stand - download clip
4. Woulda, Shoulda, Coulda
5. Perfect World - download clip
6. Test of Time - download clip
7. I Will Seek You
8. Life As We Know It - download clip
9. Till Everything I Do - listen to the full streaming song
10. Sacred Trust
Any other news will be at http://www.johnwschlitt.com and http://www.petraband.com, Petra's new official website!
Lead Vocals: John Schlitt
All Guitars: Bob Hartman
Bass (studio): Wade Jaynes
Bass (tour): Greg Bailey
Drums (studio): Peter Furler
Drums (tour): Justin Johnson
PRODUCER: Peter Furler