Petra Praise 3: Revival - 2001 - Inpop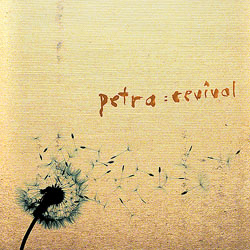 Petra re-invents themselves again! This album is so appropriate following the events of September 11th. The first song on the CD, "Send Revival" should be a hit and is the only song I don't have any gripes about. Then there is a rocker every die-hard Petra fans want to hear: "The Noise We Make"! Then "Oasis" is a rock song which I think will change rock music as we know it-- as well as "Amazing Grace", "Jesus, Friend of Sinners" and "We Want to See Jesus Lifted High" will. There are some new sounds for ballads on here, such as "Better is One Day" and "Prodigal's Song". There are also some regular good-old bonafied ballads such as "How Long" and "Satisfy" that everyone will love. And the one song I didn't mention, "Meet with Me", is a song I think was under-produced and I think John should have sang higher on it as well as other tracks on the album. But other than that, I think this album will be a hit... especially since classic rock is coming back and people are starting to appreciate the old guys (Petra) which are like the parallel universe rockers called Aerosmith.
Plus, after quitting tour in 1994 and then quitting studio in 1997, Bob Hartman rejoins Petra (for studio only) in 2001!!!
RATING: 3 1/2 STARS

SONG LIST:
1. Send Revival - sounds like a Sonic Flood song at first, then gets into pure Petra with J.S.'s awesome booming voice!
2. The Noise We Make - How about the first rocker since 1998! Nice guitar and vocals.
3. Oasis - Very soothing modern rock song with great vocals.
4. The Prodigal's Song - Alright ballad, good lyrics make up for murkiness :).
5. Amazing Grace - Very well done rocking hymn! This was a great idea!
6. Jesus, Friend of Sinners - Another interesting rocker!
7. Better Is One Day - Starts off weird, but gets better with awesome vocals at the end!
8. Meet With Me - Except for John doesn't sing that high, it's a good rocker.
9. Satisfy - A really good ballad with awesome vocals again!
10. We Want To See Jesus Lifted High - Last rocker for Petra with an old classic Bob Hartman sound to it!
11. How Long - Great make-you-think ballad to end of the CD.

Petra was:
Lead Vocals: John Schlitt
Lead Guitars (studio only): Bob Hartman
Lead Guitars (tour only): Kevin Brandow
Keyboards: Bryce Bell/Jason Halbert
Bass: Rick Cua
Bass: Mark Brandenstein (tour only)
Drums: Louie Weaver
Additional Guitars: Dwayne Larring
Produced by: Jason Halbert and Dwayne Larring for Rhythmic Productions
Executive Producer: Steve Ford

Promotional info:
For orders contact your local Chordant sales representative or call 800.877.4443
Retail Promotions: Breeon Phillips - Inpop Records
615.377.7857 breeon@inpop.com
National Radio Promotions: Kyle Fenton - Kyle Fenton Promotions
877.289.4351 kfp@home.com
Publicity: Velvet Rousseau - The Resource Agency
615.599.2777x261 v.rousseau@theresourceagency.com
Management: Infiniti Management Group, Inc
615.778.1350
Booking: H2O Artist Agency
770.736.5363 f: 770.736.9389 h2oartistagency@mediaone.net
Quotes:
"Their sound is modern, relevant and just plain cool. I have no doubt that the new album will be well received both by long-time fans as well as introduce the guys to a new generation of Christian rock fans."
-David Tanner, music buyer, Christian Supply
"Petra has done it again! They continue to reinvent themselves and they certainly have done that with great lyrics and a fresh new sound. Truthfully, I didn't even know who it was at first!"
-Cheryl Greene, The Parable Group
"It (Revival) is a perfect fit for CHR radio and it is the kind of song that will send listeners to the store. I believe that you have a real hit record on your hands, and it is a project that we are committed to. These guys...should be to CCM what Aerosmith is in the mainstream. Pioneers who still have what it takes."
-Rob Tyson, J.O.Y. Bookstore
"Petra is back!! Their new CD has a great sound with will appeal to those who are already fans, but will really broaden their appeal as well. From what I've heard, this is the record that could bring them back to the top."
-Kevin O'Brien, music buyer, Lemstone Corporate Headquarters
Narrative text
REVIVAL is in the air...
Spreading RENEWAL to God's people
THE RECORD
Revival, the newest release from the legendary band Petra, integrates the distinctive vocals of John Schlitt, the driving drums of Louie Weaver, and the powerful guitar of Bob Hartman with modern worship classics creating a Petra praise experience like none other.
Blending the sound of rock with worship music is nothing new to Petra, who released the progenitor of all contemporary worship albums, Petra Praise: The Rock Cries Out, in 1989; and its sequel, Petra Praise 2: We Need Jesus, in 1997. Both albums remain audience favorites among the band's 19 studio albums (both have, in fact, sold half-a-million copies). So when it came time to consider the next phase of Petra's ministry, it was time for Revival.
THEIR HISTORY
Very few artists in the relatively short history of contemporary Christian music have developed the unique blend of commercial viability and ministerial integrity that results in over seven million records sold, dozens of awards from both the Christian and mainstream music industries, and the ultimate badge of respect--induction into the Gospel Music Hall of Fame (the only Christian rock band so honored)... Petra, is a legend.
Fewer still have displayed the vision, determination, and stamina to negotiate personnel changes, record label changes, and touring climate changes, while watching the Christian music industry go through numerous stylistic upheavals in the process.